The Band Biography
Perry Weber - Guitars, Singer/Songwriter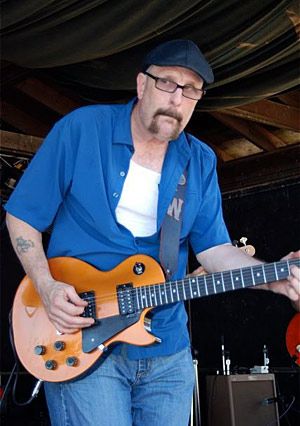 Perry Weber certainly joins the band with lots of blues experience. He is steeped in Chicago Blues and delivers it with great energy.

Here's Perry in his own words:
"I was lucky to have great friends and mentors when I was starting out playing blues. Two guys stand out among them all: Bryan Lee and Luther Allison. Every night of the week one of them would be in town somewhere, so I would go see them. They were very good to me, always taking time with me. 

Next came help from Madison Slim, Willie 'Big Eyes' Smith, Calvin Jones and my biggest and most important mentor, Jim Liban. So much thanks goes to Hubert Sumlin and his wife Bea Sumlin, for all the years as an adopted son. Thanks, too, to Barrel House Chuck, Billy Flynn and Piano Willie. There are so many, I can't name them all! 

Bands I've been in include Cadillac Pete and the Kool Breeze, The Complainer's, The Jim Liban Blues Combo, Perry Weber and the Wonder Rods, The Jim Liban Trio, Perry Weber and The Devilles, off and on work with Barrel House Chuck and the Blue Lites, The Bill Lupkin Band, The Willie Big Eye's Smith Band, Madison Slim and the Nite Crawlers, The Piano Willie Band.
I've shared the stage with Bryan Lee, Luther Allison, Calvin Jones, Willie Smith, Hubert Sumlin, Madison Slim, Jim Liban, Jimmy Dawkins, Buddy Guy, Pine Top Perkins, Sunnyland Slim, Nick Moss, Sam Lay, Jim Solberg, John Brim, Bob Stroger, Billy Flynn and others. It's about time to work with old buddy Jimmy Voegeli and his GREAT Band...The Jimmys."