Joe Goltz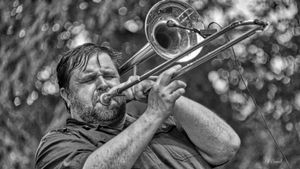 Joe began playing trombone at age 10 in the public school band program in Monroe, Wisconsin, but it was while at college at the University of Wisconsin-Platteville that Joe met the members of Youngblood Brass Band, by whom he was introduced to the fiery, audacious New Orleans brass band style. Two decades of playing brass band music enabled Joe to bring all of his musical interests to the plate to create a unique blend of jazz, funk, rhythm & blues, punk, hip-hop, soul, and ska influences in his sound.  Joe also developed his sound with his bands Mama Digdown's Brass Band, The Extra Crispy Brass Band, High-Hat Second Line, and District Brass (in High-Hat Second Line and District Brass, Joe fronted the band and sang lead vocals)
From the streets to stages and studios; Joe's done it all: festivals, clubs, weddings, burlesque shows, corporate events, second lines, cocktail parties, presidential rallies, throwing down in the street all the way to world tours. 
Recently, Joe recorded and performed with Washington D.C.'s award-winning funk and soul outfit AZTEC SUN and performed on their album "In The Name Of Everyone" produced, and mixed, by soul sultan Alan Evans (Soulive/Matador! Soul Sounds). Joe has been featured on each Youngblood Brass Band album, Mama Digdown's "Delicious, " and "We Make 'Em Say Ooh" albums, The Extra Crispy Brass Band's "One Step Forward" album,  Four Star Brass Band's "Get Your Four Star On" album, and arranged horn parts for and recorded with Mike Maimone of Mutts on his new "The High Hat Club EP."  In 2019 Joe returned to Wisconsin after over 12 years in Chicago, IL and a year in Rockville, MD and has been playing and touring with Davina & The Vagabonds, Youngblood Brass Band, and the The Jimmys. 
The Spring 2015 issue of The British Trombone Society's 'The Trombonist' magazine features Joe Goltz on the cover and the television show Fargo used a live recording of Joe playing Youngblood Brass Band's "Brooklyn" on their episode 'Aporia' (SE3:EP9).