Chris Sandoval - Drums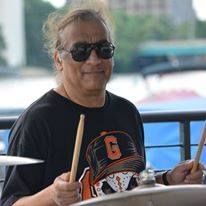 Two-time Grammy-nominated drummer, Chris Sandoval was born and raised in California. He began taking drum lessons with the legendary drummer Art Tyler at the age of 5. That same year he was given his first opportunity to perform professionally on stage with his father, Jim Doval, of Jim Doval and the Gauchos.

Chris continued to play professionally during the time he studied music at UC Davis.

In 1983 he moved back to San Francisco and began working locally with The Tubes, Santana, Pete Escovedo, Malo, Freddy Hubbard, George Howard, Roy Ayers, Maria Mauldaur, Greg Allman, Huey Lewis, Ike Turner, Joe Louis Walker, Bonnie Raitt, Lydia Pense and Cold Blood, and The Tommy Castro Band.

While touring with Tommy Castro, Chris was able to play with some of the greats including B.B.King, Taj Mahal, Lonnie Baker Brooks, John Hiatt, Bo Diddley, Neal Shon, Delbert McClinton, and countless others.

In addition, Chris is a seasoned studio musician and has recorded numerous award-winning albums.

Chris now lends his talents to various bands in Madison, Wisconsin. He tours seasonally with nationally accredited acts and provides drum and percussion instruction from his home to students of all ages.